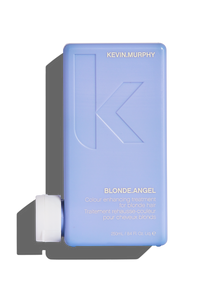 Kevin Murphy Blonde.Angel
A hair treatment conditioner to moisturise and soften bleached, highlighted and grey hair. Colour enhancers and toners refresh and repair brassy and yellowed blondes. Paraben free.
Hair Type & Condition:
For blonde or grey hair
Features & Benefits:
Colour enhancer, Revive and brighten blonde or grey hair, Refresh bleached or highlighted hair, Moisturising and repairing, Paraben free
Usage Instructions:
Apply BLONDE.ANGEL to freshly washed hair, leave for 1 minute then rinse.