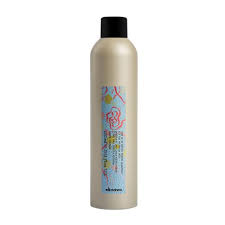 Davines This Is An EXTRA Strong Hair Spray
This is An Extra Strong Hair Spray with a fixing power that supports the hair all day long, whilst leaving it pleasantly elastic and natural-looking. This new maximum hold hairspray offers hairdressers and consumers more choice of holding power when finishing their hair style. Perfect for providing the final touch and fix to innovative elaborate hairdressing as well as providing dependable style hold in daily life. Ideal for fail-proof buns, braids and blow-drying.
Hair Type & Condition:
For all hair types; recommended for hair updos
Features & Benefits:
Very strong without looking rigid
Hold factor beyond the classical 5 out of 5
Humidity resistant & fast-drying
Can be brushed out
Hair stays in shape all day long
Natural finish
Extra moisturizing
Anti-flaking factors
Paraben-Free; No added colourings
All packaging components are carbon neutral
Unique artwork related to the each product
Usage Instructions:
Shake well before use. Apply to styled hair from approx. 30 cm/12 inches away for long lasting control and to capture the blow-dry tousled movement.
For a smooth updo, apply Relaxing Moisturizing Fluid on damp hair to add malleability and separation, before blow-drying. Follow by spraying the Extra Strong Hairspray over gathered hair to fixate it.
In order to create depth along the sides, after styling, comb and smooth the strands backwards and fix them towards the nape with Extra Strong Hairspray.