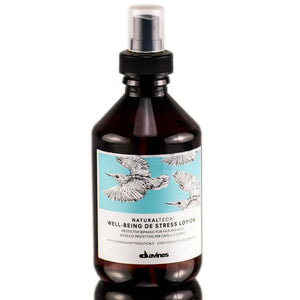 Davines Well-Being Destress Lotion: Protective Biphasic for Hair and Body
This Davines Well-Being Destress Spray Lotion 250 mL is enriched with UV filters that protect hair and skin from sun damage. Its velvety texture ensures fast, easy absorption. It is designed to work with other products in the Naturaltech line to treat specific hair or scalp problems. 
NATURAL ACTIVE INGREDIENTS:
Echinacea phytoceuticals - rich in Vitamin C for strong anti-oxidant and anti-inflammatory action;
Essential oils - Clove, nutmeg and sandalwood, with soothing, stimulating, and anti-inflammatory properties.
HOW TO USE:
Shake well before spraying on the hair or body. Apply when needed.