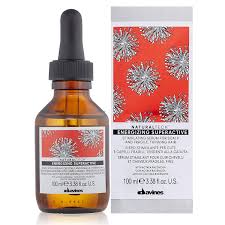 Davines Naturaltech Energizing Seasonal Superactive
Regenerating lotion for scalp and fragile hair, prone to falling out. The formula is particularly suitable in presence of hair loss caused by stress and seasonal factor. Energizing Seasonal Superactive reduces hair loss and improves the density and body*: +5¾ hair density.
(* Instrumental tests on 20 subjects, 56 days after use. )
Enriched with HAIR ENERGY COMPLEX with rebalancing action and providing hydration to the hair surface, for a cosmetic revitalizing and fortifying effect.
Hair Type & Condition:
Regenerating treatment for seasonal or stress-related hair loss.
Features & Benefits:
The new Energizing formulas have been developed to get even more specific activity against different types of hair loss
All Energizing products are now enriched with the exclusive Hair Energy Complex
Formulated with caffeine phytoceuticals in addition to the new Hair Energy Complex
Superactive products are enriched with a specific active ingredient, supporting the Hair Energy Complex
The efficacy of the formulations is proven by efficacy tests
Usage Instructions:
Apply on scalp after hair has been washed and towel-dried. Massage until completely absorbed. Do not rinse.
Intense treatment:

 

Every other day for 1 month.
Maintenance treatment:

 

Twice a week for 2 months.