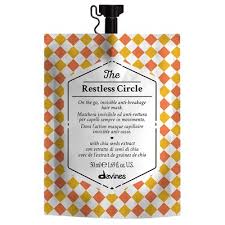 Davines The Restless Circle Hair Mask
On the go, invisible anti-breakage hair mask. With chia seed extract. For active people who love sports and are on the go, but don't want stop for a hair treatment.
Hair Type & Condition:
For all hair types
Features & Benefits:
Gives the hair body and makes it stronger and more elastic
Restores stressed hair from an active life
Usage Instructions:
Designed to be applied on dry hair, the unique texture has been formulated to be near invisible on hair.
Apply a small quantity on lengths and ends only and comb through to keep hair looking natural.
It will protect the hair while working out or doing other activities.
It has a flexible setting time, meaning that you can adjust how long you chose to leave it on according to your daily activities.
It can also be used overnight.
To rinse out, simply wet the hair and shampoo as usual and follow with conditioner if needed.