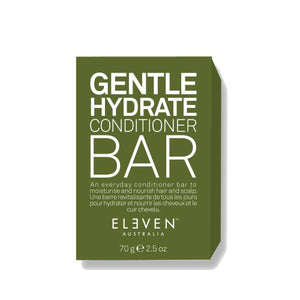 ELEVEN Australia Gentle Hydrate Conditioner Bar
An everyday conditioner bar to moisturise and nourish hair and scalp. A clean, vegan, zero waste and plastic-free solid Conditioner bar packed with Shea Butter, Argan Oil and Hydrolysed Jojoba Esters to cleanse and nourish the scalp. Formulated with a fresh pear scent and using advanced, hard-working ingredients that mirror the results of our liquid counterpart. ELEVEN Australia formulas are gentle on your scalp (and the environment!).
Hair Type & Condition:
For all hair types as a gentle everyday conditioner. Hair will be left healthy, hydrated and nourished.
Features & Benefits:
Conditions and helps repair hair
Moisturises hair. Have emollient and softening qualities
Helps hair retain protein
Protects hair against styling damage and free radical damage resulting in less breakage
Helps strengthen the hair
Helps make hair shiny, soft and smooth
Conditions the scalp and moisturises hair follicles preventing dryness. Nourishes and strengthens hair
Usage Instructions:
Massage GENTLE HYDRATE CONDITIONER BAR onto wet hair or hands
Work conditioner through mid-lengths and ends
Rinse