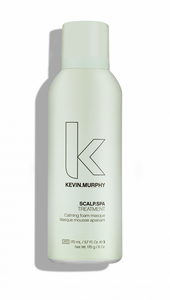 DESCRIPTION
Is your scalp overdue for a spa day? Give your scalp the pampering it deserves with our rich and luxurious SCALP.SPA TREATMENT. This concentrated foaming masque is extremely soothing and nourishing, designed to relieve a sensitive scalp and nurture it back to health. Skin-loving Hyaluronic Acid delivers hydration and seals in moisture. Carrot Root and Celery Seed Extracts help clear impurities and excessive oil while conditioning the scalp to help it remain balanced and calm. Add it to your self-care regimen once a week for a happier scalp and healthier hair growth.
BENIFITS
Helps relieve sensitive scalps
Calms
Gently removes impurities for a clean, clear scalp
Balances scalp
Soothes
Nourishes
Weightless
HOW TO APPLY
Shake well before each use. Part clean, damp or dry hair into sections and stripe along the scalp. Massage in and rinse after 20 minutes.
KEVINS TIPS
SCALP.SPA TREATMENT contains new technology that gives you a rich and luxurious foam that is designed to remove dirt and excessive oil. This calming, soothing and nourishing thick foaming masque does not weigh the hair down and can be used alone or in conjunction with the other members of the SCALP.SPA family.